**This post contains affiliate links and I will be compensated if you make a purchase after clicking on my links.
It's April! Time for bunnies and books! As you all know, I am an affiliate of Book Of The Month Club and I love to share their products with you because I love them so much. Once you sign up, you will get an email each month with a list of the upcoming books that you get to choose from. You make your selection, and then a couple weeks later your book arrives in the mail. It is so fun to open you mailbox and have book mail! Sign up with them to get this awesome service. Treat yourself!
There are some wonderful promotions this month to get you started and the books they've chosen look so great!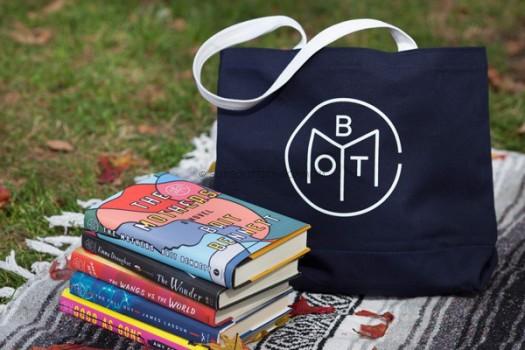 ---
Here are this months selections!!
The Impossible Fortress by Jason Rekulak – Judge Tyler Coates (culture editor at GQ)
*MOST ANTICIPATED NOVELS OF 2017 SELECTION BY * ENTERTAINMENT WEEKLY * BUSTLE *

"A sweet, funny, and moving tribute to nerds and misfits everywhere." —Seth Grahame-Smith, New York Times bestselling author of Pride and Prejudice and Zombies

Until May 1987, fourteen-year-old Billy Marvin of Wetbridge, New Jersey, is a nerd, but a decidedly happy nerd.

Afternoons are spent with his buddies, watching copious amounts of television, gorging on Pop-Tarts, debating who would win in a brawl (Rocky Balboa or Freddy Krueger? Bruce Springsteen or Billy Joel? Magnum P.I. Or T.J. Hooker?), and programming video games on his Commodore 64 late into the night. Then Playboy magazine publishes photos of Wheel of Fortune hostess Vanna White, Billy meets expert programmer Mary Zelinsky, and everything changes.

A love letter to the 1980s, to the dawn of the computer age, and to adolescence—a time when anything feels possible—The Impossible Fortress will make you laugh, make you cry, and make you remember in exquisite detail what it feels like to love something—or someone—for the very first time.
Startup by Doree Shafrir – Judge Glory Edim (Owner of popular blog Well Read Black Girl)
One of the most anticipated books of 2017–Vulture, BuzzFeed, The Millions, Nylon, and Book Riot's "All the Books" Podcast

From veteran online journalist and BuzzFeed writer Doree Shafrir comes a hilarious debut novel that proves there are some dilemmas that no app can solve.

Mack McAllister has a $600 million dollar idea. His mindfulness app, TakeOff, is already the hottest thing in tech and he's about to launch a new and improved version that promises to bring investors running and may turn his brainchild into a $1 billion dollar business–in startup parlance, an elusive unicorn.

Katya Pasternack is hungry for a scoop that will drive traffic. An ambitious young journalist at a gossipy tech blog, Katya knows that she needs more than another PR friendly puff piece to make her the go-to byline for industry news.

Sabrina Choe Blum just wants to stay afloat. The exhausted mother of two and failed creative writer is trying to escape from her credit card debt and an inattentive husband-who also happens to be Katya's boss-as she rejoins a work force that has gotten younger, hipper, and much more computer literate since she's been away.

Before the ink on Mack's latest round of funding is dry, an errant text message hints that he may be working a bit too closely for comfort with a young social media manager in his office. When Mack's bad behavior collides with Katya's search for a salacious post, Sabrina gets caught in the middle as TakeOff goes viral for all the wrong reasons. As the fallout from Mack's scandal engulfs the lower Manhattan office building where all three work, it's up to Katya and Sabrina to write the story the men in their lives would prefer remain untold.

An assured, observant debut from the veteran online journalist Doree Shafrir, Startup is a sharp, hugely entertaining story of youth, ambition, love, money and technology's inability to hack human nature.
Killers of the Flower Moon by David Graan – Judge Sarah Weinman
From New Yorker staff writer David Grann, #1 New York Times best-selling author of The Lost City of Z, a twisting, haunting true-life murder mystery about one of the most monstrous crimes in American history

In the 1920s, the richest people per capita in the world were members of the Osage Indian nation in Oklahoma. After oil was discovered beneath their land, they rode in chauffeured automobiles, built mansions, and sent their children to study in Europe.
Then, one by one, the Osage began to be killed off. The family of an Osage woman, Mollie Burkhart, became a prime target. Her relatives were shot and poisoned. And it was just the beginning, as more and more members of the tribe began to die under mysterious circumstances.
In this last remnant of the Wild West—where oilmen like J. P. Getty made their fortunes and where desperadoes like Al Spencer, the "Phantom Terror," roamed—many of those who dared to investigate the killings were themselves murdered. As the death toll climbed to more than twenty-four, the FBI took up the case. It was one of the organization's first major homicide investigations and the bureau badly bungled the case. In desperation, the young director, J. Edgar Hoover, turned to a former Texas Ranger named Tom White to unravel the mystery. White put together an undercover team, including one of the only American Indian agents in the bureau. The agents infiltrated the region, struggling to adopt the latest techniques of detection.  Together with the Osage they began to expose one of the most chilling conspiracies in American history.
In Killers of the Flower Moon, David Grann revisits a shocking series of crimes in which dozens of people were murdered in cold blood. Based on years of research and startling new evidence, the book is a masterpiece of narrative nonfiction, as each step in the investigation reveals a series of sinister secrets and reversals. But more than that, it is a searing indictment of the callousness and prejudice toward American Indians that allowed the murderers to operate with impunity for so long. Killers of the Flower Moon is utterly compelling, but also emotionally devastating.
American War by Omar El Akkad – Judge Maris Kreizman
An audacious and powerful debut novel: a second American Civil War, a devastating plague, and one family caught deep in the middle—a story that asks what might happen if America were to turn its most devastating policies and deadly weapons upon itself.

Sarat Chestnut, born in Louisiana, is only six when the Second American Civil War breaks out in 2074. But even she knows that oil is outlawed, that Louisiana is half underwater, and that unmanned drones fill the sky. When her father is killed and her family is forced into Camp Patience for displaced persons, she begins to grow up shaped by her particular time and place. But not everyone at Camp Patience is who they claim to be. Eventually Sarat is befriended by a mysterious functionary, under whose influence she is turned into a deadly instrument of war. The decisions that she makes will have tremendous consequences not just for Sarat but for her family and her country, rippling through generations of strangers and kin alike.
One Day We'll All Be Dead by Scaachi Koul – Judge Kevin Nguyen
A DEBUT COLLECTION OF FIERCE, FUNNY ESSAYS ABOUT GROWING UP THE DAUGHTER OF INDIAN IMMIGRANTS IN WESTERN CULTURE, ADDRESSING SEXISM, STEREOTYPES, AND THE UNIVERSAL MISERIES OF LIFE

In One Day We'll All Be Dead and None of This Will Matter, Scaachi Koul deploys her razor-sharp humor to share all the fears, outrages, and mortifying moments of her life. She learned from an early age what made her miserable, and for Scaachi anything can be cause for despair. Whether it's a shopping trip gone awry; enduring awkward conversations with her bikini waxer; overcoming her fear of flying while vacationing halfway around the world; dealing with Internet trolls, or navigating the fears and anxieties of her parents. Alongside these personal stories are pointed observations about life as a woman of color: where every aspect of her appearance is open for critique, derision, or outright scorn; where strict gender rules bind in both Western and Indian cultures, leaving little room for a woman not solely focused on marriage and children to have a career (and a life) for herself.

With a sharp eye and biting wit, incomparable rising star and cultural observer Scaachi Koul offers a hilarious, scathing, and honest look at modern life.