"Who killed Adolph Hitler? The answer lies within these pages. The circumstances surrounding his death have been disputed since 1945, but I know the truth. I was there"
Wowza! This was such a good book. You guys know me and my love for WWII fiction, so I was super excited to dive into this beauty. V.S. Alexander spins the history of Hitler's death a bit by imagining a slight twist in the demise of this evil man. We find out the alternate ending by going on a journey with Magda Ritter.  She was one of fifteen women who tasted Hitler's food before he would eat it. He was obsessively concerned about being poisoned by his enemies, so he put others' lives at risk in order to protect his own. Through Magda's eyes we gain insight as to the person Hitler was behind closed doors.  When she first meets him and begins working for him, she describes him as if he is someone's Grandfather. He strikes up conversations when she runs into him, enjoys the company of others and loves his dog Blondi fiercely. Clearly, the contrast between Hitler in the public and Hitler in private was drastic. "He was not particularly handsome, but his eyes held you in their powerful grip." Magda says she "Always imagined he would have been a better storyteller; if only he would have let his imagination play out in words rather than in malevolence." "He mesmerized a nation, inducing euphoric riots among those who believed in the shining new order of National Socialism." I loved the insiders perspective on Hitler that V.S. Alexander gave us. Using Magda as our eyes and ears in the story, we get to learn so much about this time in our history. Magda is a German citizen who doesn't necessarily buy into the Hitler hype, but falls in line out of necessity.  Her look isn't the traditional blonde hair and blue eyes that Hitler was so focused on having in his country to the extent that an SS Officer questions her. He says "You are not what the Fuhrer would typically request. You are too dark, too Eastern looking. One might question your loyalties-your heritage." Yikes! In the beginning of the book she has a youthful naiveté that I was a bit put off by until I realized that she needs to grow up over the course of the story in order to tell it properly. We see her change from this naïve young girl into a strong willed and unafraid woman. I loved seeing this growth and watching her slowly realize how terrible of a situation her country is in. She gets word through one of the SS Soldiers that Hitler has camps where he is murdering thousands of people and the wool is quickly pulled from her eyes. When Magda is first given her assignment as a Taster, she is told "You, and others, taste the Fuhrer's food. Your body is offered in sacrifice to the Reich in case the food is poisoned." How terrifying would that be? I put myself in Madga's shoes and had anxiety thinking about it. Not only are you constantly at risk of consuming poison, you are also at risk of being accused of poisoning this man who is fearful at all times of disloyalty. While Magda is working as a Taster at the infamous Berghof, Hitler's mountain retreat, she meets and falls in love with Karl, an SS Officer. Their love story isn't without bumps and during wartime, their allegiances are called into question. Their thoughts on the war itself change puts them into imminent danger as they realize that Hitler is not the man their country believes him to be.
This book was wonderful. It takes us on a journey through time to a place that we have heard so much about, but still continue to want to learn more. Magda's life goes from the highest highs while she is living in the Berghof, mingling with Eva Braun (Hitler's girlfriend and later wife for one day), eating delicious (although potentially poisoned food) and living in relative safety. To then crashing down when she is sent back to her family and watches in horror as bombs are dropped all around them and people she loves are killed. The rage she feels for the Führer grows and grows until all she knows is that she must stop him. She is murderously mad seeing all that he promised his followers and how dangerously different the world around him has become. Magda is a survivor and I admired her courage throughout this story. There were many times she could have just gone along with what was asked of her taking the easy road, but she continued to stay true to herself. She witnesses horror's that most of us cannot even imagine but stayed resilient and strong. I loved her character and that is a testament to V.S Alexanders excellent writing.This book was so extensively researched that I felt transported to wartime Germany and felt as though I was in Magda's head through the imagery and details provided.
PS: I am a huge fan of Kristin Hannah's WWII novel The Nightingale and I finally feel like I have found a book that just about matches the level of love I have for it with The Taster. I highly recommend that you read it and love it along with me.
Thank you to Netgalley and the publisher for this ARC in exchange for an honest review.
---
Here are a couple of cool old photos I found after researching the locations mentioned in this book: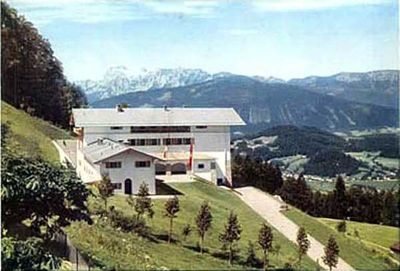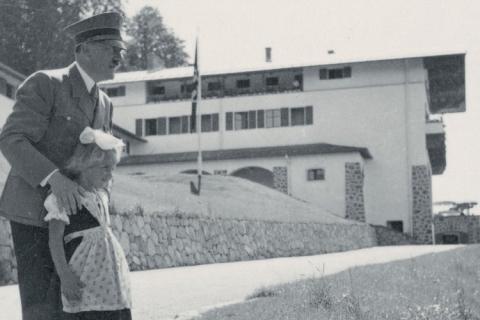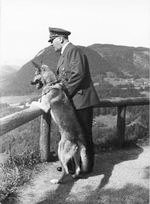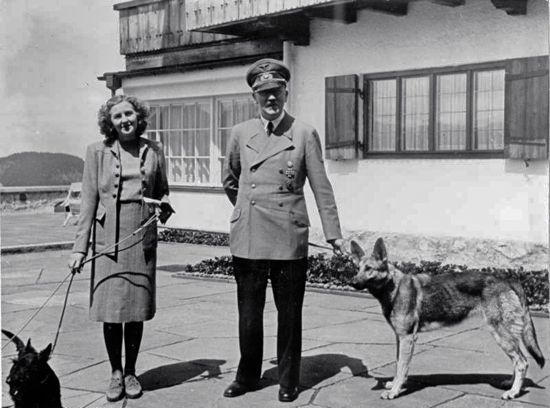 ---
Amid the turbulence of World War II, a young German woman finds a precarious haven closer to the source of danger than she ever imagined—one that will propel her through the extremes of privilege and terror under Hitler's dictatorship . . .

In early 1943, Magda Ritter's parents send her to relatives in Bavaria, hoping to keep her safe from the Allied bombs strafing Berlin. Young German women are expected to do their duty—working for the Reich or marrying to produce strong, healthy children. After an interview with the civil service, Magda is assigned to the Berghof, Hitler's mountain retreat. Only after weeks of training does she learn her assignment: she will be one of several young women tasting the Führer's food, offering herself in sacrifice to keep him from being poisoned.

Perched high in the Bavarian Alps, the Berghof seems worlds away from the realities of battle. Though terrified at first, Magda gradually becomes used to her dangerous occupation—though she knows better than to voice her misgivings about the war. But her love for a conspirator within the SS, and her growing awareness of the Reich's atrocities, draw Magda into a plot that will test her wits and loyalty in a quest for safety, freedom, and ultimately, vengeance.

Vividly written and ambitious in scope, The Taster examines the harrowing moral dilemmas of war in an emotional story filled with acts of extraordinary courage.

Praise for V.S. Alexander's The Magdalen Girls

"Fans of Barbara Davis and Ashley Hay will enjoy this tenderhearted story of sinner, saints, and redemption."–Booklist

 "Alexander has clearly done his homework. Chilling in its realism, his work depicts the improprieties long abandoned by the Catholic Church and only recently acknowledged. Fans of the book and film Philomena will want to read this." –Library Journal
Try Amazon Prime 30-Day Free Trial

Join Amazon Kindle Unlimited 30-Day Free Trial

Try Audible and Get Two Free Audiobooks

Amazon.com – Read eBooks using the FREE Kindle Reading App on Most Devices
I'm an affiliate marketer with links to an online retailer on my website. When people read what I've written about a particular product and then click on those links and buy something from the retailer, I earn a (very small) commission from the retailer.