"Now that she knew the name of the game – Scare Mommy – she should be able to defend herself. But goosebumps rose on her skin, even under the heat of the water, when she thought about her creepy daughter. The whites of her eyes. Her ability to sneak up on her as she slept."
Published: July 17. 2018

Pages: 320
My Copy Came From: St. Martin's Press & NetGalley (Thanks guys!)

Read Via: Kindle, but I also have a beautiful paperback

Book Summary from Amazon:
"Best Summer Reads for 2018"―Publishers Weekly

A battle of wills between mother and daughter reveals the frailty and falsehood of familial bonds in award-winning playwright and filmmaker Zoje Stage's tense novel of psychological suspense, Baby Teeth.

Afflicted with a chronic debilitating condition, Suzette Jensen knew having children would wreak havoc on her already fragile body. Nevertheless, she brought Hanna into the world, pleased and proud to start a family with her husband Alex. Estranged from her own mother, Suzette is determined to raise her beautiful daughter with the love, care, and support she was denied.

But Hanna proves to be a difficult child. Now seven-years-old, she has yet to utter a word, despite being able to read and write. Defiant and anti-social, she refuses to behave in kindergarten classes, forcing Suzette to homeschool her. Resentful of her mother's rules and attentions, Hanna lashes out in anger, becoming more aggressive every day. The only time Hanna is truly happy is when she's with her father. To Alex, she's willful and precocious but otherwise the perfect little girl, doing what she's told.

Suzette knows her clever and manipulative daughter doesn't love her. She can see the hatred and jealousy in her eyes. And as Hanna's subtle acts of cruelty threaten to tear her and Alex apart, Suzette fears her very life may be in grave danger…

"Unnerving and unputdownable, Baby Teeth will get under your skin and keep you trapped in its chilling grip until the shocking conclusion."―New York Times bestselling author Lisa Scottoline

"We Need to Talk About Kevin meets Gone Girl meets The Omen…a twisty, delirious read that will constantly question your sympathies for the two characters as their bond continues to crumble."―Entertainment Weekly

"A deliciously creepy read."―New York Post

"A pulse-spiking thriller."―PopSugar
My Thoughts:
This book is going to be very polarizing. As is the case with most books, some folks will love it, and some will hate it.  That's what makes reading your own personal adventure. For example: I HATED Lincoln In The Bardo, while everyone else seems to love it! One of my favorite book bloggers (Shout out to Jewels!) absolutely hated this book. I actually read her review before I finished the book which I normally don't do. I'm glad I read it though. It was interesting to read someone else's opinions as I was reading.With that being said…
I had a very hard time reviewing this book. On one hand, I really enjoyed the mystery of this demon like child, and on the other hand I couldn't stand her parents to the point of wanting this demon child to kill them! So who was I rooting for?? Oddly enough, Hannah! I enjoyed the book when it was told from Hannah's perspective much more than from Hanna's mother, Suzette. Suzette was whiny and I only really enjoyed her when she was lashing out at Hannah for her crazy behavior. I did love it though when Suzette had the upper hand and won at playing Hannah's own twisted game. But most of the time, I disliked her SO MUCH. I couldn't have cared any less about Suzette's childhood or her medical condition.  Whenever she was with Alex, or on the phone with Alex she was always so weak with the exception of maybe one, or two conversations. Alex not believing her about their demon child's behavior was her own damn fault! Why didn't she record or videotape her crazy child in the middle of these crazy behaviors she displayed to prove to Alex she behaved that way?? We live in 2018 for goodness sake! If this book was written in a different era, pre cell phones in hand at all times, then fine. I could believe in that circumstance that Alex may not believe his child was capable of the violence his wife was claiming. But come on…no video proof? Highly UN-plausible. I gave this book two and a half stars because I was on the edge of my seat at times. When Hannah is at her worst, is when this book was at its best. I actually enjoyed the ending too which is part of why I think some people won't like the book. I don't want to spoil anything, but I will say that it leaves room for a possible second book. Which I would  read!
Thank you to NetGalley and St. Martins Press for this Advanced Readers Edition of Baby Teeth in exchange for an honest review.
PS:I found this picture of the author Zoje Stage and thought it was so cute!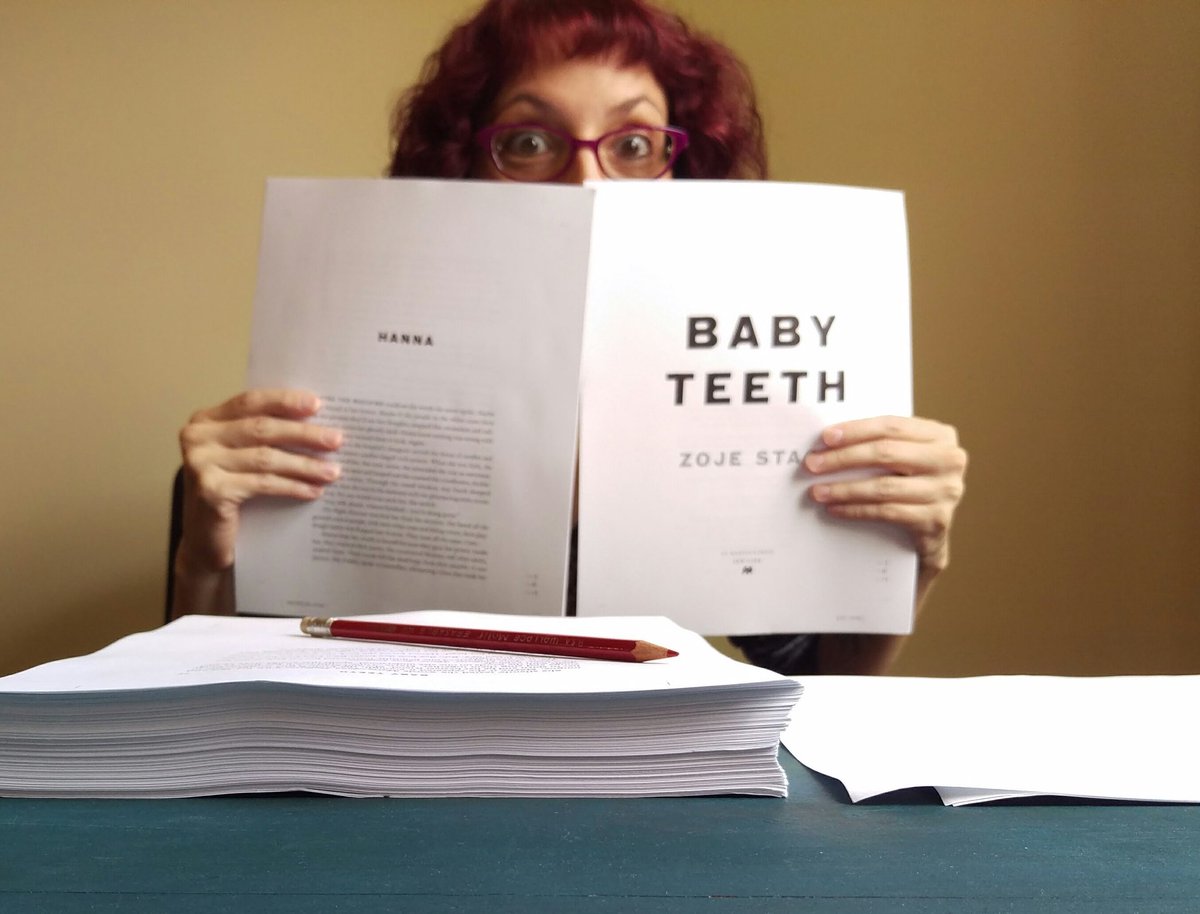 Try Amazon Prime 30-Day Free Trial

Join Amazon Kindle Unlimited 30-Day Free Trial

Try Audible and Get Two Free Audiobooks

Amazon.com – Read eBooks using the FREE Kindle Reading App on Most Devices

This blog post contains affiliate links. If you purchase something through a link, I receive a small commission. This doesn't cost you anything and it helps keep my content FREE for you. Woo hoo!