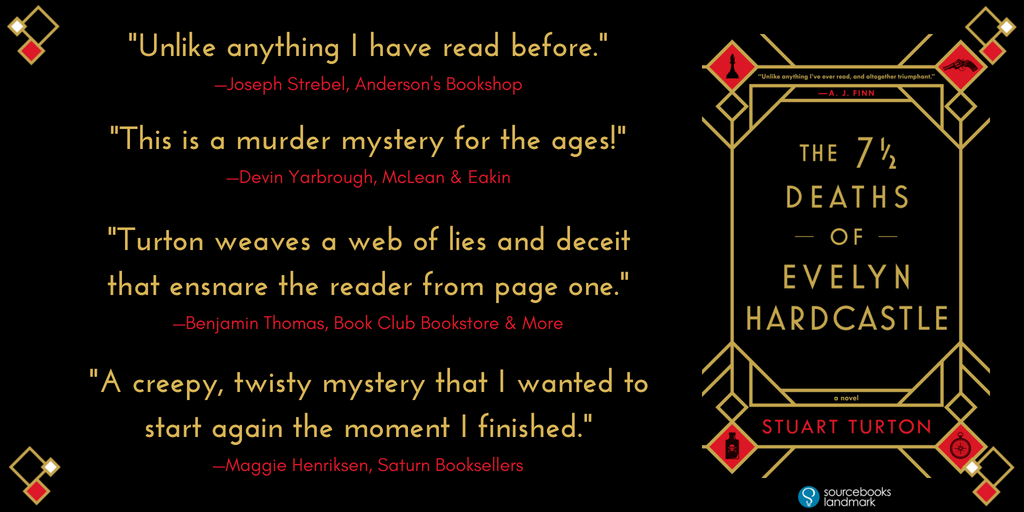 The Rules of Blackheath

Evelyn Hardcastle will be murdered at 11:00pm

There are eight days, and eight witnesses for you to inhabit.

We will only let you escape once you tell us the name of the killer.

Understood? Then let's begin…
Published:

September 18, 2018
(Fun fact: This book was originally going to be published as The Seven Deaths of Evelyn Hardcastle. Not sure why it changed, but in the US version it's 7 1/2 Deaths)



Pages:

448
My Copy Came From:

NetGalley
Read Via:

Kindle
My Like Level:

3 out of 5

Book Synopsis From Amazon:
How do you stop a murder that's already happened?
At a gala party thrown by her parents, Evelyn Hardcastle will be killed–again. She's been murdered hundreds of times, and each day, Aiden Bishop is too late to save her. Doomed to repeat the same day over and over, Aiden's only escape is to solve Evelyn Hardcastle's murder and conquer the shadows of an enemy he struggles to even comprehend–but nothing and no one are quite what they seem.
Deeply atmospheric and ingeniously plotted, The Seven Deaths of Evelyn Hardcastle is a highly original debut that will appeal to fans of Kate Atkinson and Agatha Christie.
"Dazzling. A revolving door of suspects (and narrators); a sumptuous country-house setting; a pure-silk Möbius strip of a story. This bracingly original, fiendishly clever murder mystery – Agatha Christie meets Groundhog Day – is quite unlike anything I've ever read, and altogether triumphant. I wish I'd written it." – A. J. Finn, #1 New York Times-bestselling author of The Woman in the Window

"This book blew my mind! Utterly original and unique." – International bestseller Sophie Hannah

"I hereby declare Stuart Turton the Mad Hatter of Crime. The 7½ Deaths of Evelyn Hardcastle is unique, energizing, and clever. So original, a brilliant read." – Ali Land, Sunday Times bestselling author Good Me Bad Me

"If Agatha Christie and Terry Pratchett had ever had LSD-fuelled sex, then The 7½ Deaths of Evelyn Hardcastle would be their acid trip book baby. Darkly comic, mind-blowingly twisty, and with a cast of fantastically odd characters, this is a locked room mystery like no other." – Sarah Pinborough, New York Times bestselling author

"Agatha Christie meets Downton Abbey with a splash of red wine and Twin Peaks. Dark and twisty, lush and riddled with gorgeous prose, part of me will always be trapped in Blackheath." – Delilah S. Dawson, New York Times bestselling author

"A kaleidoscopic mystery that brilliantly bends the limits of the genre and the mind of the reader. The 7½ Deaths of Evelyn Hardcastle is urgent, inventive, creepy and, above all, a blast to read!" – Matthew Sullivan, author of Midnight at the Bright Ideas Bookstore

"Brilliant, brilliant, brilliant! It's a work of sheer genius. An amazing, unique book that blew my mind." – Sarah J. Harris, author of The Color of Bee Larkham's Murder

"This novel is so ingenious and original that it's difficult to believe it's Turton's debut. The writing is completely
immersive…there are certainly echoes of Agatha Christie here, but it's Christie ramped up several notches, thanks to the malevolent twist on the Groundhog Day theme. Readers may be scratching their heads in delicious befuddlement as they work their way through this novel, but one thing will be absolutely clear: Stuart Turton is an author to remember." – Booklist

"Gloriously inventive, playful and clever, this is a must for mystery fans. I wish I'd written it myself…" – Robin Stevens, author of the Wells and Wong mystery series
"Stuart Turton's debut novel is dazzling in its complexity, astonishing in its fiendishness, and shocking in its sheer audacity. Every page, every character, and every deliciously dark secret is an absolute treat. Turton is going places." – Anna Stephens, author of The Godblind Trilogy
I give so many kudos to the author Stuart Turton. What a crazy writing process it must have taken to keep all of his story lines, timelines, and mysteries straight! I cannot even imagine the nights he spent awake thinking of ways to tie people together and clues to leave for us readers!
This book is part And Then There Were None by Agatha Christie, part Clue (the board game and later book series), and part Twilight Zone/Black Mirror. When I first began reading, I was a bit put off by the old timey setting and mystery. I tend to get a bit confused when I am given too many characters and details while I am trying to also gather clues to solve a mystery. But, I let myself just kind of go along for the ride with this one and it kept me guessing until the very last page. I truly enjoyed this book. It was so fun! If you are wondering why I gave it three stars instead of five then,  it is because I did feel it was a bit long and I had a hard time keeping some of the rules of Blackheath straight. People who love mysteries will likely rate this five stars compared to my three simply because they enjoyed the confusion and the mystery more than I did.
Thank you to NetGalley and the publisher Sourcebooks Landmark for this Advanced Readers Edition of The 7 1/2 Deaths of Evelyn Hardcastle.

Try Amazon Prime 30-Day Free Trial

Join Amazon Kindle Unlimited 30-Day Free Trial

Try Audible and Get Two Free Audiobooks

Amazon.com – Read eBooks using the FREE Kindle Reading App on Most Devices

This blog post contains affiliate links. If you purchase something through a link, I receive a small commission. This doesn't cost you anything and it helps keep my content FREE for you. Woo hoo!