Hi!
With a big drive ahead of us to visit family for Thanksgiving, I am certainly happy to have such an awesome selection of books on my To Be Read list. Some of these have come in the mail, and a few have been sent via email. They all look awesome, and each are very unique! Those of you who have read The Dry by Jane Harper, or her follow up novel Force of Nature, will be excited to see her new one The Lost Man on my list below. Vox is a story that has been on the top of many lists this year. It is about the silence of women, and reminds some readers of Margaret Atwood's The Handmaids Tale. The first book on this list is Finding Dorothy which looks very interesting. Fans of The Wizard of Oz will love this tale told through the eyes of L. Frank Baum's wife as her husbands' novel finds its way to the big screen. A couple of the books on here look to be tear jerkers. I may push those to the bottom of the pile because honestly, I am not into reading those these days. I also have to admit, I still have a few to finish from last month. But…what can you do? There just isn't enough time in the day for reading.
Finding Dorothy
by Elizabeth Letts
This richly imagined novel tells the story behind The Wonderful Wizard of Oz, the book that inspired the iconic film, through the eyes of author L. Frank Baum's intrepid wife, Maud.

Hollywood, 1938: As soon as she learns that M-G-M is adapting her late husband's masterpiece for the screen, seventy-seven-year-old Maud Gage Baum sets about trying to finagle her way onto the set. Nineteen years after Frank's passing, Maud is the only person who can help the producers stay true to the spirit of the book—because she's the only one left who knows its secrets.

But the moment she hears Judy Garland rehearsing the first notes of "Over the Rainbow," Maud recognizes the yearning that defined her own life story, from her youth as a suffragette's daughter to her coming of age as one of the first women in the Ivy League, from her blossoming romance with Frank to the hardscrabble prairie years that inspired The Wonderful Wizard of Oz. Judy reminds Maud of a young girl she cared for and tried to help in South Dakota, a dreamer who never got her happy ending. Now, with the young actress under pressure from the studio as well as her ambitious stage mother, Maud resolves to protect her—the way she tried so hard to protect the real Dorothy.

The author of two New York Times bestselling nonfiction books, The Eighty-Dollar Champion and The Perfect Horse, Elizabeth Letts is a master at discovering and researching a rich historical story and transforming it into a page-turner. Finding Dorothy is the result of Letts's journey into the amazing lives of Frank and Maud Baum. Written as fiction but based closely on the truth, Elizabeth Letts's new book tells a story of love, loss, inspiration, and perseverance, set in America's heartland.
---
If, Then by Kate Hope Day
The residents of a sleepy mountain town are rocked by troubling visions of an alternate reality in this dazzling debut that combines the family-driven suspense of Celeste Ng's Little Fires Everywhere with the inventive storytelling of The Immortalists.

In the quiet haven of Clearing, Oregon, four neighbors find their lives upended when they begin to see themselves in parallel realities. Ginny, a devoted surgeon whose work often takes precedence over her family, has a baffling vision of a beautiful coworker in Ginny's own bed, and begins to doubt the solidity of her marriage. Ginny's husband, Mark, a wildlife scientist, sees a vision that suggests impending devastation and grows increasingly paranoid, threatening the safety of his wife and son. Samara, a young woman desperately mourning the recent death of her mother and questioning why her father seems to be coping with such ease, witnesses an apparition of her mother healthy and vibrant and wonders about the secrets her parents may have kept from her. Cass, a brilliant scholar struggling with the demands of new motherhood, catches a glimpse of herself pregnant again, just as she's on the brink of returning to the project that could define her career.

At first the visions are relatively benign, but they grow increasingly disturbing—and, in some cases, frightening. When a natural disaster threatens Clearing, it becomes obvious that the visions were not what they first seemed and that the town will never be the same.

Startling, deeply imagined, and compulsively readable, Kate Hope Day's debut novel is about the choices we make that shape our lives and determine our destinies—the moments that alter us so profoundly that it feels as if we've entered another reality.

Advance praise for If, Then

"If, Then is one of the most addictive, propulsive page-turners I've ever read. It's also a gorgeous literary novel that asks us to imagine all the possible versions of ourselves that might exist. My desire to race to the finish was at all times competing with my urge to savor every line. . . . A must-read."—J. Courtney Sullivan, New York Times bestselling author of Saints for All Occasions

"In If, Then, Kate Hope Day negotiates the delicate balance between razor-sharp smarts and pure page-turning entertainment as well as any novel I've read—ever. Nothing escapes Day's prehensile intellect, from the intricacies of surgery to the real estate business to the effects of climate change—and, of course, the magic of alternate realities. If, Then brings to mind Tom Perrotta's The Leftovers, the best of Ursula K. Le Guin, Karen Russell, Kelly Link, and maybe even a splash of Stephen King. I suspect that everyone you know will be reading this book for years to come."—Daniel Torday, author of Boomer1
---
Our Life in a Day by Jamie Fewery
Our Life in a Day is a breathtaking ten-year love story told in twenty-four individual hours – for fans of The Note by Zoe Folbigg, The Perks of Being a Wallflower by Stephen Chbosky, and One Day by David Nicholls.

The rules are simple. Choose the most significant moments from your relationship – one for each hour in the day.

You'd probably pick when you first met, right?
And the instant you knew for sure it was love?
Maybe even the time you watched the sunrise after your first night together?

But what about the car journey on the holiday where everything started to go wrong?
Or your first proper fight?

Or that time you lied about where you'd been?

It's a once in a lifetime chance to learn the truth. But if you had to be completely honest with the one you love, would you still play?

For Esme and Tom, the game is about to begin. And once they start, there's no going back . . .
---
Vox by Christina Dalcher 
NATIONAL BESTSELLER
ONE OF ENTERTAINMENT WEEKLY'S AND SHEREADS' BOOKS TO READ AFTER THE HANDMAID'S TALE
"[An] electrifying debut."–O, The Oprah Magazine *
"The real-life parallels will make you shiver."–Cosmopolitan

Set in a United States in which half the population has been silenced, Vox is the harrowing, unforgettable story of what one woman will do to protect herself and her daughter.

On the day the government decrees that women are no longer allowed more than one hundred words per day, Dr. Jean McClellan is in denial. This can't happen here. Not in America. Not to her.

Soon women are not permitted to hold jobs. Girls are not taught to read or write. Females no longer have a voice. Before, the average person spoke sixteen thousand words each day, but now women have only one hundred to make themselves heard.

For herself, her daughter, and every woman silenced, Jean will reclaim her voice.

This is just the beginning…not the end.

One of Good Morning America's "Best Books to Bring to the Beach This Summer"
One of PopSugar, Refinery29, Entertainment Weekly, Bustle, Real Simple, i09, and Amazon's Best Books to Read in August 2018
---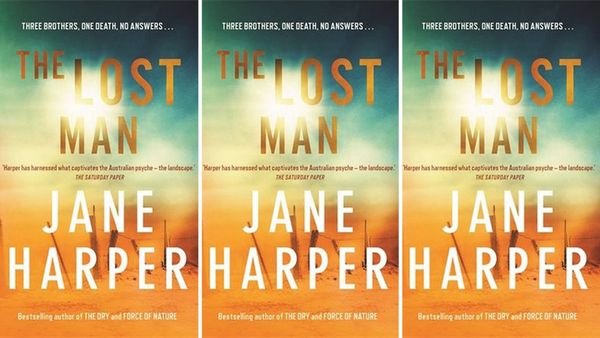 The Lost Man by Jane Harper
Two brothers meet in the remote Australian outback when the third brother is found dead, in this stunning new standalone novel from New York Times bestseller Jane Harper

Two brothers meet at the remote fence line separating their cattle ranches in the lonely outback. In an isolated belt of Western Australia, they are each other's nearest neighbor, their homes four hours' drive apart.

The third brother lies dead at their feet.

Something caused Cam, the middle child who had been in charge of the family homestead, to die alone in the middle of nowhere.

So the eldest brother returns with his younger sibling to the family property and those left behind. But the fragile balance of the ranch is threatened. Amidst the grief, suspicion starts to take hold, and the eldest brother begins to wonder if more than one among them is at risk of crumbling as the weight of isolation bears down on them all.

Dark, suspenseful, and deeply atmospheric, The Lost Man is the highly anticipated next book from the bestselling and award-winning Jane Harper, author of The Dry and Force of Nature.

In The Blink Of An Eye by Jesse Blackadder
"Intimate, raw and beautiful."—Bryan Reardon, New York Times bestselling author of Finding Jake

"A captivating, visceral, beautifully written story…The characters were so real and relatable that I was riveted."—Robyn Harding, international bestselling author of The Party

In the Blink of an Eye is award-winning author Jesse Blackadder's deeply emotional drama that explores a family's path to forgiveness and redemption in the aftermath of a tragedy.

The Brennans — parents, Finn and Bridget, and their sons, Jarrah and Toby — have made a sea change, from chilly Hobart, Tasmania, to subtropical Murwillumbah, New South Wales. Feeling like foreigners in this land of sun and surf, they're still adjusting to work, school, and life in a sprawling purple clapboard house, when one morning, tragedy strikes.

In the devastating aftermath, the questions fly. What really happened? And who's to blame? Determined to protect his family, Finn finds himself under the police and media spotlight. Guilty and enraged, Bridget spends nights hunting answers in the last place imaginable. Jarrah — his innocence lost — faces a sudden and frightening adulthood where nothing is certain.

In the Blink of an Eye is a haunting, redemptive story about forgiveness and hope.

---

The Secret of Clouds by Alyson Richman
From the #1 international bestselling author of The Lost Wife and The Velvet Hours comes an emotionally charged story about a mother's love, a teacher's promise, and a child's heart…..

Katya, a rising ballerina, and Sasha, a graduate student, are young and in love when an unexpected tragedy befalls their native Kiev. Years later, after the couple has safely emigrated to America the consequences of this incident cause their son, Yuri, to be born with a rare health condition that isolates him from other children. Maggie, a passionate and dedicated teacher agrees to tutor Yuri at his home, even though she is haunted by her own painful childhood memories. As the two forge a deep and soulful connection, Yuri's boundless curiosity and unique wisdom inspires Maggie to make difficult changes in her own life.  And she'll never realize just how strong Yuri has made her — until she needs that strength the most……

A novel that will make readers examine what it means to live life with a full heart.
---
Which ones look like something you would be interested in?? Want to read along with me?
Thank you to NetGalley and the Publishers for giving me an advanced readers copies of these books in exchange for honest reviews.
---

Try Amazon Prime 30-Day Free Trial

Join Amazon Kindle Unlimited 30-Day Free Trial

Try Audible and Get Two Free Audiobooks

Amazon.com – Read eBooks using the FREE Kindle Reading App on Most Devices
This blog post contains affiliate links. If you purchase something through a link, I receive a small commission. This doesn't cost you anything and it helps keep my content FREE for you. Woo hoo!